This has been an issue ever since windows 10 I wasn't able to make any changes to the folder even after taking over ownership/removing trusted seller/give full control to everyone principal/tempering via administrator command prompt nothing seems to work,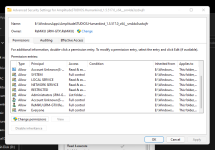 now I upgraded to Windows 11 I didn't bother to uninstall the apps previously I searched everywhere watched tutorials it still doesn't seem to work... now I'm getting a prompt for permission from myself.

It's getting frustrating as I couldn't do anything with this huge folder that eating a significant portion of my disk storage... does anyone know how to delete this stubborn folder? aside from formatting the disk as a last resort?