Joined

Nov 29, 2022
Messages

607
Reaction score

56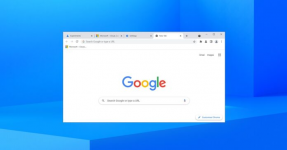 ​

Google Chrome on Windows 11 and 10 nags users to turn on Windows Hello and protect passwords during auto-fills. The popup, which appears in the top right corner of Chrome, was first spotted in the last week of July, with more users seeing it in August, according to reports spotted by Windows Latest. The popup titled "Protect passwords with Windows Hello" shows up in some installations of Google Chrome. This notification suggests users enable the Windows Hello integration for Chrome, emphasizing that it's beneficial if they share their device with others. By turning this on, Chrome would use Windows Hello to verify the user's identity whenever a saved password is accessed. For those unaware, Chrome has supported Windows Hello integration since 2020. Google recently added a new feature that will use biometric methods available to your PC for saving or accessing passwords.
​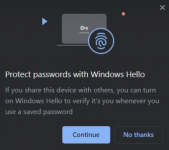 ​

Google has now started nagging users to enable the feature when they're casually using the browser. The popup message appears in the Chrome browser's top right corner, but not all users are being targeted with this reminder. We witnessed this behaviour in our tests on only one of our devices.

A user shared their experience with Windows Latest, outlining a pattern they identified:​
They were browsing as usual on Chrome.​

Suddenly, a popup appeared in the top right corner, promoting the use of Windows Hello.​

The operating system was Windows 11.​

They have used Windows Hello for other purposes but not Chrome. Chrome browser was indeed signed into Google.​
A thread on Google forums and several posts on X (formerly Twitter) reveal that some may have unknowingly turned on Windows Hello, as it does not ask for double confirmation and shows up randomly in the browser for some users. As a result, when you accidentally turn on the feature and try to access a saved password, you may see a popup stating, "Google Chrome is trying to fill your password," recommending you type your Windows Hello PIN. One user was concerned with confusing popups: "I activated a password protection feature, and now I regret it. Every time I visit a webpage and Chrome tries to autofill saved passwords, I'm presented with a PIN challenge. How can I deactivate this so I don't have to keep entering my Windows PIN for every website where my password is saved?"

Source WindowsLatest.Com​