I keep getting this error when I am Trying to go to Carbide 3d.com I can connect to other websites with no problem, This is on Edge
with Wondow 11 , Everything works fine on my desktop but not on my laptop. I have searched the net and followed all the recomendation I could fine, but it still does not connect to Carbide 3d.com.
Any help would be appreceiated.
Regards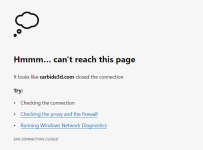 Last edited: