Joined

Jun 14, 2022
Messages

305
Reaction score

42
Hi,
I have a problem with a BIOs update.
My computer has a Gigabyte motherboard with an American Megatrend (AMI) Bios !
see: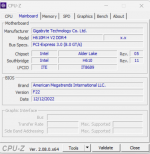 I recently got a message from Intel that my PC could be vulnerable:
https://www.intel.com/content/www/u...advisory-guidance/redundant-prefix-issue.html
I run the CSME detection tool from Intel, and it said I should update my Bios. (As you can see in the link, my CPU, "Alder Lake 12th generation" is on the list)
Looking at the
Gigabyte Bios download page
, I fould that there was effectively a newer Bios which claimed to have updated CPUID Microcode,
see F27: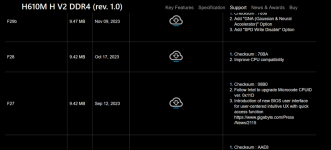 I downloaded the Bios and tried to flash my existing one (which is F 22)!
But it does not work !
It first didn't work, because I got the message, that a driver was not signed.
So I removed "secure boot" in my Bios and tried again.
But this time the flash utility in the Bios said it could not read the new Bios file.
I re-downloades the file, but same issue !
Then I thought I should perhaps go to the AMI Bios page (because the Gigabyte motherboard has an AMI Bios).
But
this page
very clearly says, that in such a case (same situation: Gigabyte motherboard with AMI Bios), I should go to the Gigabyte download page.
It says: Only when you are in Case 2, you can perform the American Megatrends BIOS update.
But I am in case one !
And now I am out of ideas !
Any advice from your side ?